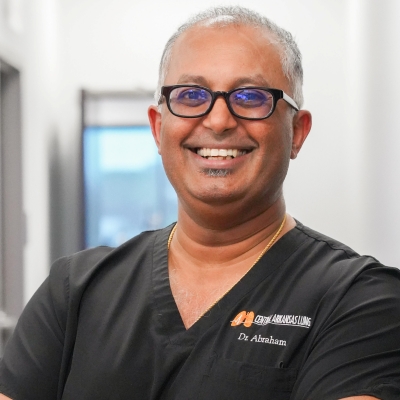 Request Dr. Abraham to speak
at your next event
Experience
Dr. Ladly Abraham is a fellowship-trained Pulmonary, Critical Care, and Sleep Medicine Specialist, with over 15 years' experience in the field — making him an ideal speaker for any event. 
Affiliations
Dr. Ladly Abraham is not only affiliated with local hospitals, Baptist Medical Center in Conway and Conway Regional Medical Center, but the clinic is the only Alpha-1 Foundation's Clinical Resource Center in Arkansas.

Research
Dr. Ladly Abraham strives to be on the cutting edge of pulmonary medicine, which means that Central Arkansas Lung often participates in research. This has made him a stand-out speaker for pharmaceutical events. 
Contact us for more information
If you're interested in booking Dr. Abraham to speak about your product or at your event, please call our office at 501-852-5500 or use the button below.